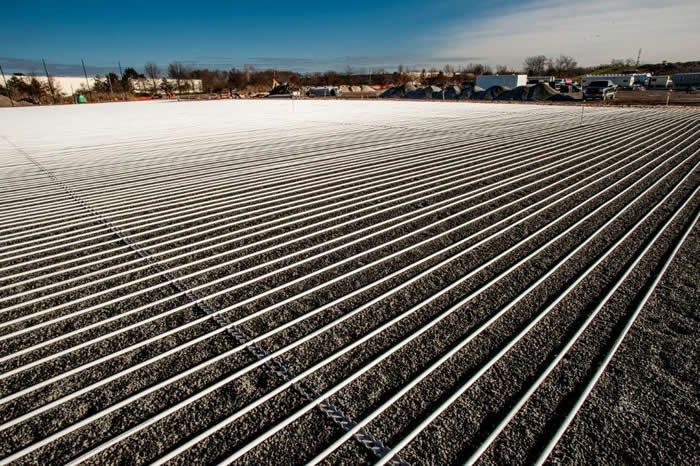 The New York based Red Bulls have to cross the border to practice at their brand new training facility in Hanover, NJ. The state of the art complex, situated on a 47-acre property, boasts three practice fields, one artificial turf and two natural turfs. While one of the natural fields will feel the brutal New Jersey winter, the other will remain lush and green with the assistance of Watts Radiant. The heated turf will not only protect the field in the dead of winter, but promotes an ideal temperature within the root system to sustain growth and repair. Ideal, since sporting fields take a great deal of abuse.
Thermco sized the field at 8 million BTUs and designed the system specifically to ensure self-balancing circulation and reduce head pressure. Six inches below layers of pea stone, sand, and soil lies 135,000 lineal feet of ¾ inch Watts Radiant PEX tubing. The miles of piping will circulate a heated glycol mixture in a reverse-return system.
What makes The Red Bulls project unlike other radiant systems is the manifolds used to distribute the warmed glycol mixture. To ensure equal distribution throughout, Thermco specified three, 390 feet long, 6 inch Watts polyethylene manifolds. The manifolds were heat-fused in the field from more than sixty 20-feet sections. Two manifold sections were equipped with heat-fused barbs with tubing connectors, while the third became the system's header, moving the liquid from the heat plant to the opposite end of the field. The PEX loops were connected to the manifold barb fittings with copper crimp connections. Thermco also specified dozens of sensors within the field to ensure the constant even distribution of heat and thusly, healthy growth.
Plumbing and Mechanical Magazine featured this story on the cover of their September 2014 issue.