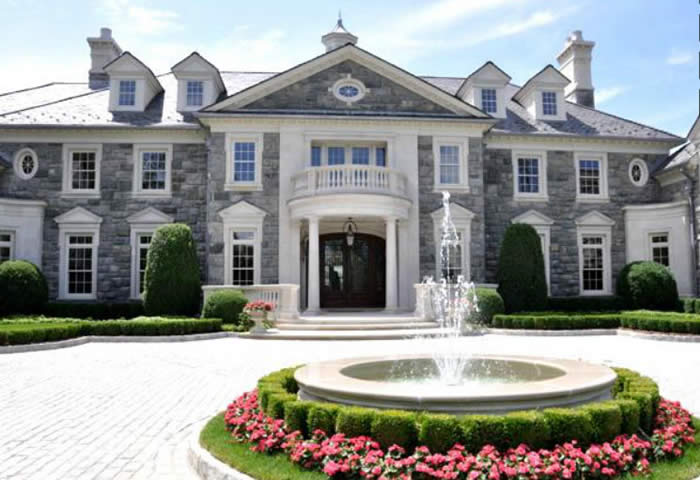 This estate located in Alpine, is one of the premier homes in Bergen County.
Prior to its construction, the heating and air conditioning contractor got together with Thermco for the design of the heating, domestic hot water and snow melt systems. As installed, the job has a mix of Watts Radiant heat and snow melt, hydro-air HW coils located in the homes air distribution systems and a high velocity air conditioning system for the indoor basketball court with 30 foot ceilings. Powered by Triangle Tube's line of Prestige boilers and Phase III indirect water heaters, the house has all it needs to fulfill its heating and domestic hot water needs.
Provided for the house are five (5) Prestige model PS399's, two (2) Smart 120 and one (1) Smart 40 installed amongst three mechanical rooms. Watts Radiant Onix and pex products run throughout various parts of the house and courtyard with top quality Stainless Steel manifolds produced by Watts. Controlling it all is Tekmar, the leader in boiler and hydronic control. Tekmar has incorporated into the control system; Modulating boiler staging controls, Injection mixing controls, Automatic snow control and floor sensing thermostats. For the house's gymnasium heating and air conditioning requirement, the c0ntractor used the easy to design and install Velocity Plus (high velocity) system by Espi-Tech.
The Triangle Tube Prestige line of boilers is second to none in their design for high efficiency and dependability. Its fire-tube stainless steel heat exchanger delivers optimum performance with no maintenance required. The fully modulating boiler has the highest water volume and lowest pressure drop of any boilers of its kind. Match that with Triangle Tube's Phase III stainless steel tank in tank indirect water heater and you have a system that you can be proud of.
Watts Radiant, the most complete line of radiant products in the United States used a mixture of Pex and its exclusive Onix product along with the best in Stainless Manifolds for its quality and ease of installation. Tekmar controls, there is none better for bringing the entire system together. Velocity Plus' simple installation and ease of design made the challenge of conditioning the gymnasium a breeze.
Design, Quality, Product Support and Ease of Maintenance made for the perfect team of the Contractor, Thermco, Triangle Tube, Watts Radiant, Tekmar and Velocity Plus in making a perfect system for a house that is unparalleled in the third most expensive county in the United States.